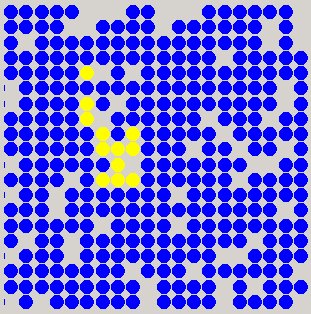 The picture shows a simple simulation in which a normal population (blue) competes with a mutation (yellow). In each generation the individuals try to multiply. The mutations are stronger than the original population. According to Darwin's theory of evolution, one would eventually reach a population with only yellow individuals (survival of the fittest). Darwin's theori may be written as a simple differential equation. If a mutation has one percent larger probability of being succesful, it will grow according to the series 1, 1.01, 1.02, 1.03, 1.041, 1.051, 1.062,....

In reality, it usually does not grow, but becomes extinguished within a few generations. The reason is that the number of individuals is always an integer. There does not exist anything like 1.02 individuals. Due to statistical fluctuations, the series will become something like 1, 1, 1, 2, 3, 3, 3, 4, 3, 4, 3, 3, 2, 3, 1, 0. As soon as the value happens to be zero, the mutation is gone.

You may download a program that simulates this. For verification purposes, the source code is available here. In this way, you may verify that the code does what I tell.
You could compile it with any C++ compiler.
In addition to those files, there are also user instructions available to download.